UCSB offers a broad range of housing options for single students and families. Here are some of the perks of UCSB housing:
Simple and easy application process with no deposit
Priority consideration for graduate apartments
Flexible payment plans (rent can be paid in arrears to accommodate payment for those receiving a housing allowance from the VA)
9-month or 12-month housing contracts
Opportunity for student veterans to be housed with other veterans/reservists
Apartments located on campus property or within one mile of campus
Accommodation for emotional support and service animals
Getting Started with Housing
Take a look at our residences. Attractive options for military-related students include the residences below. First and second year dependents without families may be placed in one of the residence halls.
Family Housing: 1 & 2 Bedroom Apartments (Storke, West Campus)
Info: Must either be in a long term relationship with live-in partner or have children or both. Priority is given to students with children.

Studio Apartments: Single Occupancy (Tropicana Villas, Westgate)
Info: This is the only non-family option where you can live without roommates. Close to campus. These studios are very limited so be sure to apply as early as possible.

Graduate Apartments: 2 or 4 Bedroom Apartments, 1 Person per Room (San Clemente Villages)
Info: Veteran Undergraduates qualify for graduate apartments. Shared living room and bathroom. Close to campus. These apartments are a great value.

Shared Room Options: Shared bedroom & bathroom (El Dorado, San Joaquin, Santa Ynez, Sierra Madre Villages, Tropicana Villas, Westgate)
Info: The most affordable option available for those who don't mind bunking up. These are not dorms; they are apartments.
Off Campus Housing
Housing in the Santa Barbara area can be very expensive! If you are considering living off campus, it is strongly recommended that you contact UCSB's Community Housing Office prior to your arrival to UCSB!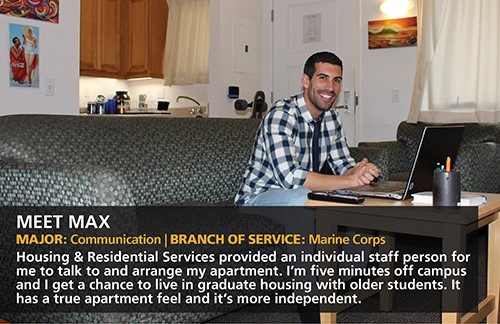 Student Veteran Housing Information
If you are a student veteran who's already been accepted to UCSB and are in need of housing, please complete the
Student Veteran Housing Info Request
prior to your arrival at UCSB!