American Indian Community
A GOOD DAY TO DIE
MCC THEATER
This documentary recounts the life story of Dennis Banks, the Native American who co-founded the American Indian Movement (AIM) in 1968 to advocate and protect the rights of American Indians. David Mueller and Lynn Salt, 92 min., English, 2011, USA. Co-sponsored by the American Indian Graduate Student Alliance; the American Indian Science and Engineering Society; the American Indian Students Association; and the EOP- American Indian Cultural Resource Center.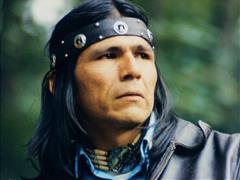 In 2017, the Kiy'ap'aphaniš (Our Villages) Fund, named for the Chumash villages upon which UC Santa Barbara sits, scholarship was created. It supports the educational advancement of undergraduate and/or graduate students at UCSB who are helping to advance Native American issues in their communities. The Fund supports tuition or educational fees, travel for research or academic conferences, books and supplies, or other needs associated with scholarly studies. It also supports group programming efforts or projects in keeping with the spirit of supporting the scholarship and professional advancement of the Native American student community. To learn more and fill out an application, visit http://bit.ly/ourvillages

American Indian Student Organizations
Expand all
Community Services and Resources
American Indian Health & Services Clinic
The American Indian Health & Services clinic provides quality medical, dental, pediatric, and behavioral health services to all members of the community. The clinic also hosts several free community events each month, including workshops on beading, regalia making, gardening, fitness, and more. For more information, please contact Youth and Family Engagement Specialists Manny Luna (805-681-7356, ext. 272 or mluna@aihscorp.org) or Kiana Cates (805-681-7356, ext. 401 or kcates@aihscorp.org).
Coastal Band of the Chumash Nation
The Coastal Band of the Chumash Nation (CBCN) is a sovereign nation of Coastal Chumash Indigenous Peoples. Our ancestors have lived in this area for many thousands-of-years. CBCN has a long presence in the Tri-County Areas. We are a nation of Chumash indigenous Peoples from the San Luis Obispo, Santa Barbara, Ventura and other Counties.

Santa Ynez Band of Chumash Indians
Haku. The story of the Santa Ynez Band of Chumash Indians is a story of hope, optimism and success. We are looking ahead for the well-being of the next generations as we honor our heritage and traditions today.
Our reservation in the Santa Ynez Valley is the home to tribal families, and to our tribal government and the Chumash Casino Resort. But our reservation also is home to a dream that started many years ago with our ancestors. Their spirit will continue far into the future because of the actions we are taking in the present.
Wishtoyo Chumash Foundation
Wishtoyo's Chumash Village is a unique and authentic re-creation of a working Native American village on a four-acre historical site at Nicholas Canyon County Beach in Malibu, on a bluff overlooking the Pacific Ocean. It is the only living Chumash cultural village of its kind in Southern California. The Village was constructed on property managed by Los Angeles County Department of Beaches and Harbors, Wishtoyo's partner in the project.
American Indian Cultural Resource Center (AICRC)
The American Indian Cultural Resource Center (AICRC) promotes cultural identity development and strives to empower American Indian students through their college careers. By providing resources, activities that enhance leadership skills, educational events and ongoing development of the space, we encourage the sharing of ideas and experiences, which imparts a greater understanding of our culture(s) to one another and the campus community.

Minor in Indigenous studies (Department of Religious Studies)
The American Indian and Indigenous Studies Minor is designed to give students an understanding of the ideas, practices, experiences, and issues confronting native peoples of North and South America through the study of their histories, environment, cultures, languages, politics, and economies. The minor, available to all students, recognizes the significance of indigenous languages and cultures as an important part of the heritage of all American peoples. The focus of the minor at UCSB builds on the historic strengths of a variety of disciplines in the humanities, arts, and social sciences.

American Indian Student Support Services
American Indian Student Support Services aims to increase student retention through culturally contextualized and individualized approaches We Provide culturally enriched retention support for Native American students enrolled at UC Santa Barbara, and work with partners across campus and Tribes/reservations/schools across California with prospective Native American students.

American Indian and Indigenous Collective Academic Counsel (AIIC-AC)
The Native American and Indigenous Studies Association (NAISA) is an interdisciplinary, international membership-based organization, comprised of scholars working in the fields of Native American and Indigenous Studies, broadly defined. NAISA has become the premier international and interdisciplinary professional organization for scholars, graduate students, independent researchers, and community members interested in all aspects of Indigenous Studies.