How You Can Help
The Guardian Scholars Program is always seeking volunteers to mentor students, resources in the community and donations of items needed by Guardian Scholars. Please see the Wish List of items needed below and contact us if you would like to donate. To submit a monetary donation, please contact:
Melinda Douglas
Senior Director, Executive Development
UC Santa Barbara
Santa Barbara, CA 93106-2013
melinda.douglas@ucsb.edu
805.893.2580 (Office)
Meet our Guardian Angels
These outstanding donors have contributed to the continued success of the Guardian Scholars Program. We are extremely grateful for their generous support.
The Makarechian Foundation, Inc.
Steven M. Hilton '74 and Lisa Hilton, Conrad N. Hilton Foundation
Nisbet Family Foundation
Wayne and Lynn Barker / Village Properties
Mr. Steve Bennet
Leslie Dorosin and Steve Bennet
Mr. Arnold E. Brier
Walter and Lynne Clay
Tyrena and William Jones / Kirby-Jones Foundation
Assistance League of Santa Barbara
A.S. Bike Shop
Transportation Alternatives Program
UCSB Bike Team
Harvey and Hope Schechter '47
The Estate of Thomas Shroyer '69
Mr. and Mrs. Fred Nasri
Teach a Man to Fish Foundation / Vinnie and Tori Smith
Green Foundation / George and Kathleen McCrimlisk
Paul and Anna Makarechian
Keith Palmquist
Paul Orfalea / Bob Nunez, DDS
Kim and Soren Kieler
Sallie and Bijan Saless
Ali and Jordan Quivey
Walter and Lynne Clay
Jeffrey Wattenberg
Roman Tsunder
Ali Jahangiri
Stephen and Maria Black
Jill Feldman and Arnie Brier
Mollie and Ali Ahlstrand
Ryan Mills and Ed de Vicente
Eve Briere and Andy Maltz
Sherry Zalfaghari
Joe and Navas Shooshtari
Richard Mulder / Heel Bruise
Michael and Jennie Davidson
Wendy Foster
Julie Henley
Donna Mancusi and Megan Valentine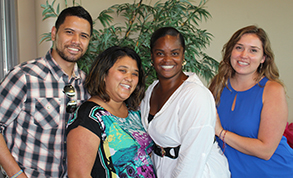 Guardian Scholar Wish List
Some of our current Guardian Scholars have let us know that they are in need of the following items. If you would like to donate any item on the list, please contact: Stephany.rubio@sa.ucsb.edu
Employment opportunities
Student volunteers
Housing assistance
Transportation assistance
Couch
Household furniture
Cookware
Whiteboard
Plates/cups/eating utensils
Microwave