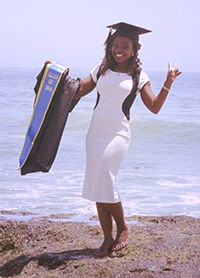 Name: Adeola Adeife
Hometown: Georgia
Graduation Year/Major: Global Studies major with minors in Applied Psychology and Black Studies, class of 2014
What Are You Doing Now? Pursuing my Masters of Science in Marriage and Family Therapy at Valdosta State University, Georgia
Advice: Your past is a part of who you are, but it does not define who you will become in the future! You can be independent, but you still need help from others…and that is completely fine! Please! Please! Please! Ask for help when you need it! Listen to the counsel of well-meaning people around you and learn from them. While you are in school, stay motivated and take advantage of all of the resources the school has to offer. Take classes that sparks your interest and declare a major/minor that makes you happy. You have come this far and you will make it in life, stay encouraged. Anything in this life is possible if you set your mind to it. Never take NO for an answer, because if one door closes, best believe another door is waiting just for you. Lastly, always remember that you are "worthy of love, success, and happiness." If you ever have any questions or need someone to talk to, I am here for you all.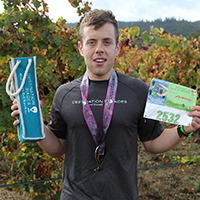 Name: Anthony (Tony) Correia
Hometown: Middletown, CA (Small town just north of Napa Valley)
Graduation Year/Major: Communication major, class of 2014
Now: Working at Francis Ford Coppola Winery, training for a half ironman! (I don't know which is more important to me now)
Advice: Pursue something you love to do, and DO AN INTERNSHIP if your field of study is more broad (e.g. biology, art, communication, psychology, sociology, media studies, math). Employers want experience regardless of how well you did in college and what you major in. The only exception I have noticed is super narrowed-down majors (e.g. water treatment or web design), but you better really enjoy your narrowed major if you go that route since it's the only field you'll be able to get a job in.

​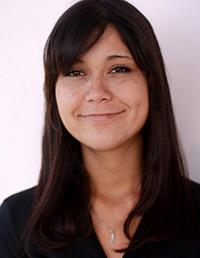 Name: Kayla Lopez
Hometown: I was born in San Diego, but I moved around a bit but I think I have more memories in Las Vegas, NV or in San Jacinto, Ca.
Graduation Year/Major: Class of 2014, Anthropology and Feminist Studies
What I am doing now: I am a confidential advocate with the CARE office here at UCSB where I work with survivors of sexual assault, domestic violence and stalking.
Advice:It's so important to learn who you are and what you like independent of other people, especially before you make any major life decisions (i.e. grad school, marriage etc.) Try to be yourself without pleasing anyone else and you'll find true happiness. Also, learn to surf.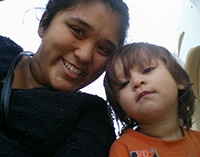 Name: Jojo Murdock
Hometown: Santa Maria, CA
Graduation Year/Major: Sociology major, class of 2013
Advice: Connect, be involved and don't be afraid to reach out and ask for help---it may save your school career. Employers love seeing that you were involved with your college. Oh and don't miss the holiday parties, they are amazing!!!!

​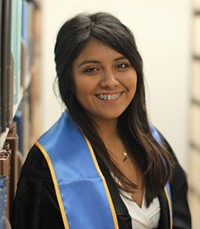 Name: Katrina Padilla
Hometown: Bakersfield, California
Graduation Year/Major: Class of 2016, Global & International Studies and Sociology
What I am doing now: I just wrapped up an internship at the Western Center on Law & Poverty. In the fall, I will be starting a full time job at the Department of Human Services and will be applying to master's programs in public policy.
Advice: For those students planning to pursue graduate school: protect your GPA and invest in relationships with your professors if you plan to ask for letters of recommendation later. My overall advice to undergraduates, and probably my most important advice, is to protect your mental health by investing in a strong support system and seeking help when you feel down. Do things that bring you joy and invest in relationships that are healthy! These two things become extremely important for a healthy life even long after graduation.