Immigration Legal Services
At University of California, through a partnership with UC Immigrant Legal Services Center, we provide free immigration legal services to UC students and their immediate family members. Through a partnership between Undocumented Student Services and the UC Immigrant Legal Services Center, an attorney dedicated to immigration issues is available. Attorney Anna Manuel is able to meet with UCSB students and their immediate family members with matters such as:
Legal advice for undocumented students in the UC system and their immediate family members, as well as students who are U.S. citizens with undocumented family members
Legal support for informational and know-your-rights sessions at UC Santa Barbara
DACA renewals
Special Immigrant Juvenile Status
U-visas
Temporary Protected Status (TPS)
Other immigration relief
Please note that these legal services are currently in high demand. We ask that you please keep this in mind with respect to booking your appointment, as meeting times fill up quickly. If you are unable to attend your appointment, please do your best to cancel at least 48-hours in advance, so that another student may have the opportunity to meet with the attorney.
For questions please contact:
Amber Spring
She, her
UCSB Staff Attorney
UC Immigrant Legal Services Center
Appointments: https://tinyurl.com/UCSBUCImm
(530) 574-6329 | amber.ucimm@law.ucdavis.edu
Emergency Immigration Legal Services
Offers assistance for emergency cases where students or immediate family members are detained or at risk of deportation. Contact UCSB Staff Attorney, Amber Spring, via (530) 574-6329 or amber.ucimm@law.ucdavis.edu.
Office of International Students and Scholars
The UCSB Office of International Students & Scholars provides immigration support, advising, and cultural programming for international students and scholars. They provide support and information for those with valid student visas, those seeking employment with a student visa and any other immigration issues that arise from studying in the US.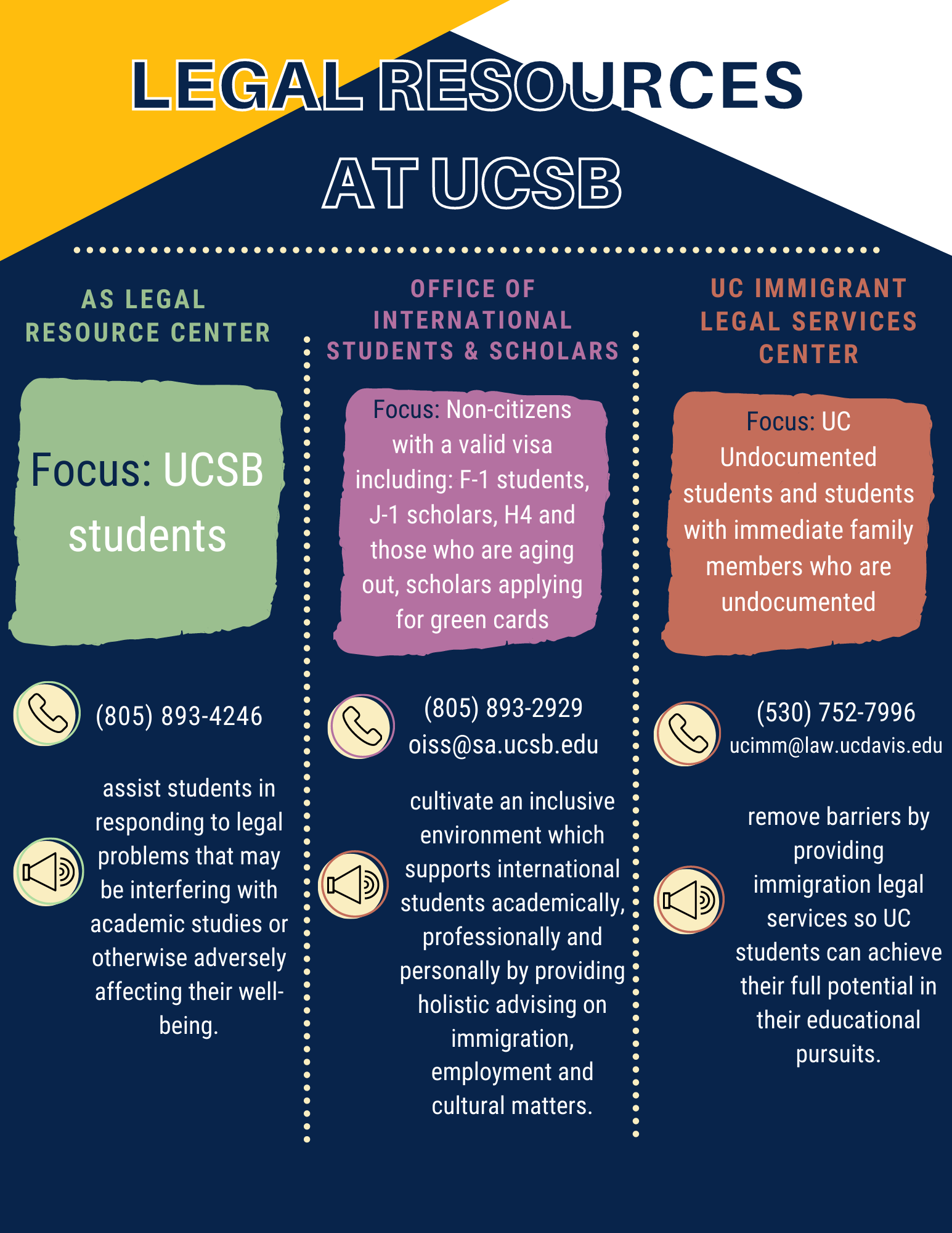 Additional UCSB Services
Associated Students Legal Resource Center (ASLRC)
Offers free information and support to registered UCSB students on a wide range of issues, including legal consultations, education, and referrals.
MIP, Public Intoxication, Fake ID, noise violations and public urination citations

Security deposit disputes, evictions, habitability situations

Restraining orders, dissolutions

Vehicle accidents

Lease & rental Information, roommate conflicts

DACA application support
REFERRAL:
For assistance, visit the ASLRC at The Pardall Center (Upstairs in the 2nd Floor)
6550B Pardall Road, Isla Vista
Know Your Rights
Remember, all people in the U.S., regardless of immigration status, have rights under the U.S. Constitution and other laws. Make sure you know your rights if you are approached by police or ICE. Review the information below to help you understand what your rights are and what to do in different situations.
You have the right to remain silent
You do not have to discuss your immigration or citizenship status
Stay Calm and be polite. Do not lie about your citizenship or provide fake documents
You do not have to sign anything without talking to a lawyer
You have the right to speak to an attorney before answering any questions.
If you are stopped by an immigration enforcement officer:

TO IMMIGRATION OR OTHER OFFICER: "I am exercising my 5th Amendment right under the U.S. Constitution to remain silent. I do not wish to speak with you, answer your questions, or sign or give you any documents without a lawyer present. I do not give you permission to enter my home or search my person or belongings based on my 4th Amendment rights under the U.S. Constitution, unless you have a warrant to enter, signed by a judge or magistrate with my name and correct address on it that you slide under the door."