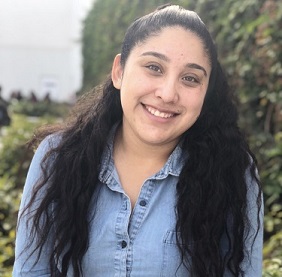 Hello Fellow Gauchos,

My name is Berenice Lopez, and I am a first-generation college student from Torrance, California. I am honored and excited to serve as this year's Stephen S. Goodspeed intern in the Office of the Vice Chancellor for Student Affairs at UCSB. I am a senior majoring in psychological and brain sciences and minoring in educational studies.
Throughout my undergraduate years at UCSB, I have served various roles within the Division of Student Affairs and have been very fortunate to have held a variety of positions across campus. For the academic years of 2016-17 and 2017-18, I was a peer mentor for Educational Opportunity Program (EOP) where I worked closely with first-year students. In this role, I advised and counseled many new students about their academic, financial, or personal needs. During the 2017-18 winter quarter, I worked as a co-leader for an academic course, INT 95B: The Second Year Experience, where I led and facilitated weekly class discussions and served as a mentor to my students. In addition, for three consecutive summers, from 2016 to 2018, I served as a STEP (Summer Transitional Enrichment Program) resident assistant to incoming first-generation, first-year students. In that role, I responded to the needs of students and helped to facilitate their transition from high school to a four-year university.
As this year's Goodspeed intern, my main goal is to serve as a liaison between the Student Affairs departments and students; I want to help mitigate and propose solutions in response to campus and student concerns. I plan to continue the Student Affairs Student Council, which was re-established by the 2017-18 Goodspeed intern, Hailey Phalen, and work on publicizing it to attract a diverse committee that can address and represent the wide spectrum of students in our campus community. The council will discuss campus matters that need to be addressed and have an opportunity to propose solutions and meet with departments on campus to have meaningful conversations about creating change and improving the campus.
For my self-initiated projects this year, I have a few things in mind and plan to work closely with a number of Student Affairs departments on initiatives that are important to me and to my fellow Gauchos. I look forward to the experiences and opportunities I will have while serving as this year's Stephen S. Goodspeed intern.
I can be reached at berenicelopez@ucsb.edu.
Let's make this a great year Gauchos!
Sincerely,
Berenice Lopez