Inclusion • Compassion • Dedication • Collaboration
UCSB Student Affairs: Engaged in Every Student's Success
The Division of Student Affairs advances the education, research, and service mission of the University by providing programs and services that contribute to students' academic achievement, personal development, well-being and success.

As dedicated, compassionate, and collaborative professionals, we cultivate lifelong leaders and learners who recognize and appreciate the dignity of individuals and communities.
UCSB Student Affairs Annual Report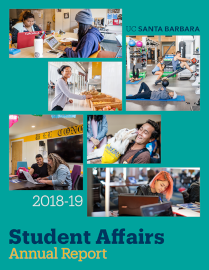 As valued community members and UCSB supporters, we invite you to take a look at our
2018-2019 Annual Report for UCSB's Division of Student Affairs.
Within our ongoing divisional assessment initiative, the report highlights this past year's learning and operational outcomes and provides evidence of the immense impact of our widespread services across campus. As I enter my fourth year as Vice Chancellor for Student Affairs, I am thrilled to be a part of the continuous growth, spirit, and strength of the UCSB community. Across Student Affairs' departments and programs, we are proud of the work we do each day and of our influence in the lives of the students we serve.
Margaret Klawunn
Vice Chancellor for Student Affairs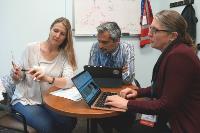 As of January 28, 2020, no cases of the novel coronavirus (2019-nCoV) have been reported in Santa Barbara County, nor is anyone under suspicion of having been exposed to the virus that originated in Wuhan, China; although California Department of Public Health reports two confirmed cases of the novel coronavirus in the state.

Still, the virus that has been making its way around the world has sparked a lot of concern within the campus community. Student Health Services Medical Director Ali Javanbakht, M.D., Associate Medical Director, Laura Polito, M.D., and Infection Control Coordinator Holly Smith, R.N., sat down with The Current to shed some light on this new strain of a common virus... MORE