The Division of Student Affairs advances the education, research, and service mission of the University by providing programs and services that contribute to students' academic achievement, personal development, well-being and success.

As dedicated, compassionate, and collaborative professionals, we cultivate lifelong leaders and learners who recognize and appreciate the dignity of individuals and communities.
UCSB Student Affairs Annual Report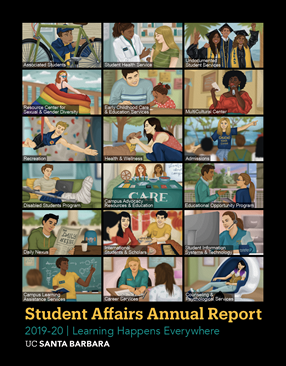 As valued community members and UCSB supporters, we invite you to take a look at our 2019-2020 Student Affairs Annual Report Within our ongoing divisional assessment initiative, the report highlights this past year's learning and operational outcomes and provides evidence of the immense impact of our widespread services across campus. As I enter my fifth year as Vice Chancellor for Student Affairs, I am thrilled to be a part of the continuous growth, spirit, and strength of the UCSB community. Across Student Affairs' departments and programs, we are proud of the work we do each day and of our influence in the lives of the students we serve.
The theme chosen for the 2019-2020 edition of the Division of Student Affairs Annual Report is Learning Happens Everywhere. Our original thought about the theme was to illustrate how Student Affairs' departments support the campus's academic mission through our co-curricular learning opportunities for students, and education and awareness efforts for the campus. Little did we know that the COVID-19 pandemic would move the campus to remote instruction, and we would need to shift all of our services to online offerings. This required all of us to learn how to teach and serve in new modalities, and demonstrated that learning did indeed happen everywhere, and for us and for our students. In this edition, you will learn about our extraordinary efforts, initiatives and services, and the findings gleaned from this unprecedented year of online service delivery.
Margaret Klawunn
Vice Chancellor for Student Affairs
Coronavirus Disease 2019 (COVID-19) Information
Click HERE for updated information about UCSB's response to the Coronavirus and HERE for information from Santa Barbara County Public Health.
Click here to view FAQ: COVID-19 FAQ