Updates from the Vice Chancellor
January 7, 2021
The message below was sent out regarding yesterday's upsetting events in Washington DC. We realize these are disturbing events that are traumatic. If you or a friend is seeking support, we encourage you to review the resources available to you here: https://wellbeing.ucsb.edu/. There is a range of resources available to you, and we want to be here to support you.
In addition, UCSB Associated Students passed a resolution about the insurrection in Washington DC that can be accessed here: https://www.as.ucsb.edu/files/2021/01/57-010621-57.pdf
__
Democracy and Inequality

Our democracy is under attack. It is not so much that our system works as a perfect model of democracy but, at the very least, WE as a nation, have clung to the ideal. The ideal underpins our protests, our pride, and our discontents. Democratic principles provide the foundation for academic freedom and our continuing pursuit of diversity, equity, and inclusion at UC Santa Barbara. So, too, does our Constitution, our democracy, protect our First Amendment rights, that we exercise and enjoy within the academy.

Many anticipated that Trump supporters would descend upon the Capitol in protest. They certainly had the right to do so. What we were devastated to witness was an insurrection in which many, if not most, of the offenders were free to storm the Capitol with nearly total impunity. This observation does not discount the tragic death of a woman who was shot while trying to breach a hallway door. The attempt to overthrow a legally elected president represented a lack of faith in our principles of democracy. Violence and hate prevailed, and they are never the answer to our disappointments, angers or frustrations. Our Capitol was vandalized, and our elected officials terrorized. Yet, as the 6:00 p.m. curfew that was imposed by the Washington, D.C. mayor, came and went, the police, in riot gear, stood on the sidelines observing the Trump supporters who refused to leave the grounds. In media coverage, we saw little to no tear gas, little to no batons swinging, and the National Guard was, through much of this frightening event, not present. Instead, on live television, the domestic terrorists were allowed to mull around on the lawn, high-five one another, and return to their hotels. While many of us in the academy are proponents of de-escalation police tactics, such an approach is not uniformly implemented. What a glaring contrast to the experience of peaceful Black Lives Matter protesters, who were, in early June, tear-gassed and beaten with batons to clear the way for President Trump's photo-op in front of St. John's Episcopal Church in Washington, D.C.! This is a shameful and brazen display of inequality, where even while under siege, the domestic terrorists, remained largely shielded from the full weight of the law, while non-Whites lose their lives every day for far less serious or no legal offenses.

This is a sad, sad, day in American history. As Senator Cory Booker stated, "Our democracy is wounded." Indeed, it is, and not only because of the violent attack on our Capitol and on our elected officials.

We at UCSB must continue to embrace and to work together towards our shared ideals of democracy and equality. These ideals are intertwined. Our commitment to diversity, equity, and inclusion works in support of our democratic ideals.

Belinda Robnett
Vice Chancellor for Diversity, Equity, and Inclusion

Margaret Klawuun
Vice Chancellor for Student Affairs
UCSB Student Affairs Annual Report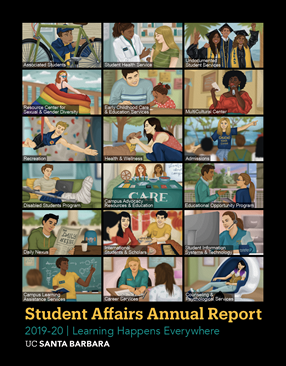 As valued community members and UCSB supporters, we invite you to take a look at our 2019-2020 Student Affairs Annual Report Within our ongoing divisional assessment initiative, the report highlights this past year's learning and operational outcomes and provides evidence of the immense impact of our widespread services across campus. As I enter my fifth year as Vice Chancellor for Student Affairs, I am thrilled to be a part of the continuous growth, spirit, and strength of the UCSB community. Across Student Affairs' departments and programs, we are proud of the work we do each day and of our influence in the lives of the students we serve.
The theme chosen for the 2019-2020 edition of the Division of Student Affairs Annual Report is Learning Happens Everywhere. Our original thought about the theme was to illustrate how Student Affairs' departments support the campus's academic mission through our co-curricular learning opportunities for students, and education and awareness efforts for the campus. Little did we know that the COVID-19 pandemic would move the campus to remote instruction, and we would need to shift all of our services to online offerings. This required all of us to learn how to teach and serve in new modalities, and demonstrated that learning did indeed happen everywhere, and for us and for our students. In this edition, you will learn about our extraordinary efforts, initiatives and services, and the findings gleaned from this unprecedented year of online service delivery.
Margaret Klawunn
Vice Chancellor for Student Affairs
Coronavirus Disease 2019 (COVID-19) Information
Click HERE for updated information about UCSB's response to the Coronavirus and HERE for information from Santa Barbara County Public Health.
Click here to view FAQ: COVID-19 FAQ
The COVID-19 Return-to-Campus Community Compact for Students is the agreement that students sign electronically when completing the required online COVID-19 education module.