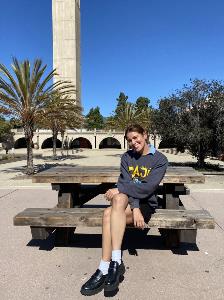 Jennisa Casillas
Stephen S. Goodspeed Intern
2021-22
Welcome!
The Office of the Vice Chancellor for Student Affairs welcomes Jennisa Casillas!
My name is Jennisa Casillas and I identify as a Latinx first-generation student. I was born and raised in Santa Fe Springs, CA. From a young age, I have always valued my education, and my parents constantly instilled in me the mentality of pursuing higher education since they did not have the opportunity to. Currently, I am a senior majoring in Sociology and double minoring in Applied Psychology and Education. After UCSB, I plan to attend graduate school to obtain my master's degree. I am excited and honored to serve as this year's Stephen Goodspeed intern because this will allow me the opportunity to explore a future career path in Student Affairs.
During my time here at UCSB, I have been involved with a few campus organizations such as being a Promise Scholar, working with the Educational Opportunity Program (EOP), and new student Orientation. As a Promise Scholar, I have volunteered as a peer mentor for the Summer Mentorship Program. I was paired with two students and I served as a remote resource to them before starting their official academic careers here at UCSB. My role in EOP is on the Scholars Team and I serve as one of the Scholars Program Peer Mentors. From this experience, I have been able to not only practice my mentorship but grow in my leadership and communication skills along with my overall work ethic. I have appreciated my position with EOP especially through the pandemic because I have been able to foster healthy relationships with my peers and faculty through such a difficult time. In addition, I am so grateful to have had the opportunity to work with our Orientation Program & Parent Services as one of this year's Orientation Staff members. I was honored to welcome our new students and hope to have made their transition to our university as smooth as possible. With all my campus involvement experiences I particularly strive to be a positive network for the first-generation community that is newly exposed to higher education.
Overall, I have a strong desire to help and work with students, especially first-generation students like myself since our experience is extremely unique. I am passionate about effecting positive change in my community and being a support system that fosters all students' success. I am excited to be working in student affairs and my goal is to do my best to ensure that our diverse community of UCSB students feel welcomed, empowered, and safe during their academic career here as a Gaucho.
---
About the Stephen S. Goodspeed Internship
The Goodspeed Internship was created by the alumni association in honor of Dr. Stephen S. Goodspeed. Dr. Goodspeed was a distinguished Vice Chancellor for Student Affairs, Vice Chancellor for Administrative Affairs, and professor of Political Science at UC Santa Barbara. After 32 years as a teacher, nearly 20 years of which was also devoted to administrative leadership, Stephen S. Goodspeed retired in 1978, and UC Santa Barbara Alumni dedicated this internship in his honor.

The Goodspeed internship is designed to give one student each year the opportunity to gain experience in higher education administration while developing organizational and leadership skills. The intern has the unique opportunity to learn about the internal operations of the Division of Student Affairs, from planning and policy-making to the workings of specific units within the division. The Goodspeed intern has the opportunity to collaborate with, and learn from, the Vice Chancellor for Student Affairs and other senior administrators. Some students have used the internship as a platform to organize various campus events and activities, while others have used it as an opportunity for professional development and/or graduate school planning.
For more information, visit the Goodspeed Internship website.