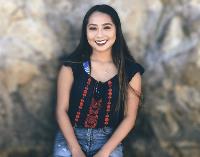 Liseth Santos-Solano
Stephen S. Goodspeed Intern
2020-21
Welcome!
The Office of the Vice Chancellor for Student Affairs welcomes Liseth Santos-Solano!
A biography and contact information will be posted soon.
---
About the Stephen S. Goodspeed Internship
The Goodspeed Internship was created by the alumni association in honor of Dr. Stephen S. Goodspeed. Dr. Goodspeed was a distinguished Vice Chancellor for Student Affairs, Vice Chancellor for Administrative Affairs, and professor of Political Science at UC Santa Barbara. After 32 years as a teacher, nearly 20 years of which was also devoted to administrative leadership, Stephen S. Goodspeed retired in 1978, and UC Santa Barbara Alumni dedicated this internship in his honor.

The Goodspeed internship is designed to give one student each year the opportunity to gain experience in higher education administration while developing organizational and leadership skills. The intern has the unique opportunity to learn about the internal operations of the Division of Student Affairs, from planning and policy-making to the workings of specific units within the division. The Goodspeed intern has the opportunity to collaborate with, and learn from, the Vice Chancellor for Student Affairs and other senior administrators. Some students have used the internship as a platform to organize various campus events and activities, while others have used it as an opportunity for professional development and/or graduate school planning.
For more information, visit the Goodspeed Internship website.