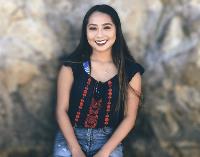 Liseth Santos-Solano
Stephen S. Goodspeed Intern
2020-21
Welcome!
The Office of the Vice Chancellor for Student Affairs welcomes Liseth Santos-Solano!
My name is Liseth Santos and I was born and raised in Fresno, California. Both of my parents immigrated to the U.S from Oaxaca, Mexico at a young age to seek a better future. I am a first-generation and low-income student majoring in Sociology and double minoring in Education and Applied Psychology. After UCSB, I plan to attend graduate school to obtain a Master's in High Education and Student Affairs. For this reason, I am extremely excited and grateful to be this upcoming year's Stephen Goodspeed intern.
My experience at UCSB consists of being involved with a couple of on-campus organizations while also working as a Cal-SOAP tutor. As a tutor, I have had the opportunity to advise, inform, and expose low-income and first-generation students to post-secondary education. I truly enjoy providing mentorship to middle school and high school students while assisting them with goal-setting and college preparation. This past summer I served as a Program Assistant for the EOP Summer Transition Enrichment Program and a Peer Mentor for the Promise Scholars Summer Mentorship Program. I have a passion for helping other students attend college and inform them of the opportunities that are available to them.
As this upcoming year's intern, I plan to use the same determination I have gained as a tutor and peer mentor to shed light on the struggles and issues students face on this campus and help overcome them. My goal is to do my best to make sure all students from our diverse community feel welcome and safe while they succeed in their academic and personal goals at UCSB.
---
About the Stephen S. Goodspeed Internship
The Goodspeed Internship was created by the alumni association in honor of Dr. Stephen S. Goodspeed. Dr. Goodspeed was a distinguished Vice Chancellor for Student Affairs, Vice Chancellor for Administrative Affairs, and professor of Political Science at UC Santa Barbara. After 32 years as a teacher, nearly 20 years of which was also devoted to administrative leadership, Stephen S. Goodspeed retired in 1978, and UC Santa Barbara Alumni dedicated this internship in his honor.

The Goodspeed internship is designed to give one student each year the opportunity to gain experience in higher education administration while developing organizational and leadership skills. The intern has the unique opportunity to learn about the internal operations of the Division of Student Affairs, from planning and policy-making to the workings of specific units within the division. The Goodspeed intern has the opportunity to collaborate with, and learn from, the Vice Chancellor for Student Affairs and other senior administrators. Some students have used the internship as a platform to organize various campus events and activities, while others have used it as an opportunity for professional development and/or graduate school planning.
For more information, visit the Goodspeed Internship website.