Remote Instruction - SA Department Status Updates
Remote Instruction - SA Department Status Updates
Staying Connected with Student Affairs
Student Affairs is more committed than ever to its vision of being Engaged in Every Student's Success. All of our units will continually evaluate how they can provide dedicated service to students in innovative ways, so that we can continue to reach students both in person (where appropriate) and online throughout this period of remote instruction.
We have created three main avenues for students to identify and connect with Student Affairs resources this quarter. Please check back often. We will update information as conditions change, procedures evolve, and we leverage new technologies to improve the student experience.
This

Student Affairs

Website
This page shows program and service availability throughout the Division of Student Affairs, and shares the easiest ways to get in touch with each of our units. Our goal is to provide a snapshot of all that is available to you, and how to get in touch, in a single page.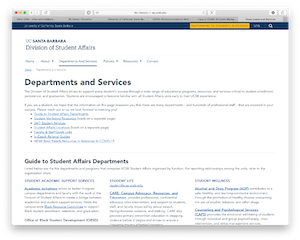 Shoreline (Web & App)
Shoreline (shoreline.ucsb.edu) is UC Santa Barbara's student engagement platform. The app and homepage include links to campus resources, campus news, and community events. You can join and engage with more than 500+ campus organizations and departments.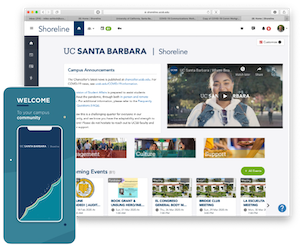 Recent general and COVID-19-related communications from the Division of Student Affairs are posted to our homepage.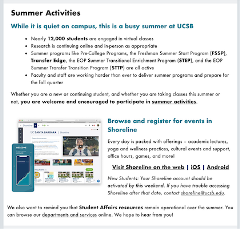 Undergraduate and graduate students are added to our mailing list automatically. Parents and loved ones can find information, resources, and sign up for parent emails at sa.ucsb.edu/parents/.
Campus Information
The Chancellor's Office is maintaining a central page with campus communications and information related to COVID-19. Additionally, Student Health has established a COVID-19 health information page including prevention, testing, and what to do in case of exposure.
Department Status Reports

The most important message from our departments to UC Santa Barbara students is, "We're open – online!" Student Affairs staff members are working hard to keep providing service to students through virtual and other alternative means. The directory below provides the following details about our departments:
Services offered virtually or in an alternative format
Important messages, including any temporarily paused programs or temporarily closed facilities (beyond regular in-person services and offices)
The best way to engage with the department

The following services are offered VIRTUALLY unless otherwise indicated.
Updates
Information on this page is subject to frequent change. Please check back often.

---
In-Person Services
Most services are being delivered virtually. Very limited in-person operations continue throughout the Division so that we can continue to fulfill our mission. For example, administrative and maintenance functions, advocacy services, basic needs support, and medical care are available in person where needed.

Associated Students (A.S.)
UCen, up the stairs across from the MCC
Main Office – Daily, 9 a.m. – 4 p.m.
Food Bank – Wed & Fri, 10 a.m. – 3 p.m.
Student Health
Student Health Building
Mon-Fri, 9 a.m. – 4:30 p.m.
Additional hours by appointment only
Student Needs Advising Center (SNAC)
UCen, across from the Campus Store
Mon, 11:30 a.m. – 5:30 p.m.
Tue-Thu, 9 a.m. – 6 p.m.
Fri, 10 a.m. – 4 p.m.
---
Buildings
The Student Resource Building (SRB) and Recreation Center (RecCen) are closed until further notice. Other campus buildings that are temporarily closed include the UCSB Library, Mosher Alumni House, and University Center (UCen).

---
Find Our Events on Shoreline
shoreline.ucsb.edu
More departments coming soon!
Academic Initiatives
Alcohol and Drug Program (ADP)
CARE: Campus Advocacy, Resources, and Education
Civic and Community Engagement
Educational Opportunity Program (EOP)
Financial Aid and Scholarships (OFAS)
Health and Wellness
International Students and Scholars (OISS)
Orientation Programs and Parent Services
Recreation
Registrar
Student Engagement and Leadership (SEAL/OSL)
Undocumented Student Services (USS)
Women, Gender, and Sexual Equity (WGSE)
---
Office of the Vice Chancellor for Student Affairs (VCSA)

Form or Petition Processing, Scheduled one-on-one appointments • Approvals and signatures
Email Office of the Vice Chancellor for Student Affairs
Call 805-893-3651 to leave a message; we will respond as soon as possible
More Less
Student Affairs Grants & Development

Student Affairs Grants and Development identifies and seeks charitable support from individuals, foundations, and the community to enrich and enhance opportunities for students and the Division of Student Affairs. Please visit our web page for more information: www.sa.ucsb.edu/student-affairs-grants-and-developments/giving-opportunities
More Less
---
Academic Resources
Click here for a directory of academic resources.
Visit the Keep Learning: Resources for Remote Learning site.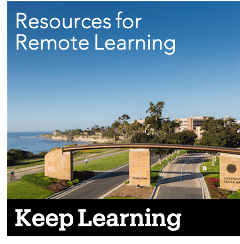 Academic Initiatives

Scholarships, Scheduled one-on-one appointments • Assessment
• Divisional Messaging to Faculty
Email Mark Shishim
Website academics.sa.ucsb.edu
More Less
Admissions
Website admissions.sa.ucsb.edu
More Less
Alcohol and Drug Program (ADP)

Academic course (e.g. ED, ESS, INT), Clinical care (physical or mental health), Events (artists, concerts, lectures, etc.), Interactive Workshops & Tutorials, Scheduled one-on-one appointments, Virtual group support and instruction • Mental health and substance use counseling support
• Group support
• Educational podcasts, webinars and interactive events
• Social media outreach
Email ADP
Call 805-893-5013
Website alcohol.sa.ucsb.edu
Life of the Party
Gauchos For Recovery
More Less
Associated Students (A.S.)

Form or Petition Processing, Interactive Workshops & Tutorials, Scheduled one-on-one appointments • Elections
• Food Bank
• Online legal assistance
• KCSB
• Financial literacy workshops
Temporarily paused: AS Ticket Office; AS Publications; AS Media Center and Workshop Wednesdays; AS Recycling.
Contact Form | Updates by A.S. Area
Website www.as.ucsb.edu

IN-PERSON SERVICES OFFERED
UCen, up the stairs across from the MCC
Main Office – Daily, 9 a.m. – 4 p.m.
Food Bank – Wed & Fri, 10 a.m. – 3 p.m.
More Less
Black Student Development (OBSD)
In response to a strong culture of Black student activism, OBSD advances the experiences of all Black students, advocates for their needs, and fosters their personal and academic achievement through graduation and beyond. Through the development of innovative and sustainable programs and services aimed to increase the recruitment, retention, academic achievement, holistic support, and self-advocacy of our Black community, OBSD addresses the needs of the Black student community and holds ourselves and the university responsible to meet those needs.
Email OBSD
Website obsd.sa.ucsb.edu
More Less
CAPS (Counseling and Psychological Services)

Clinical care (physical or mental health), Scheduled one-on-one appointments • Brief Assessment & Intakes
• Therapy sessions
• Consultation
• Crisis intervention
Call 805-893-4411 to leave a message; we will respond as soon as possible
Website caps.sa.ucsb.edu
More Less
CARE: Campus Advocacy, Resources, and Education

Clinical care (physical or mental health), Events (artists, concerts, lectures, etc.), Scheduled one-on-one appointments, 24/7 Service, Accompaniment for medical and reporting processes (case-by-case basis) • Online or Phone Confidential CARE Advocacy Services for survivors
Call CARE's 24/7 confidential hotline 805-893-4613
Website wgse.sa.ucsb.edu/care/
More Less
Career Services

Career events (career fairs, networking, employer information sessions, etc.), professional skill development workshops, scheduled one-on-one career coaching appointments, 24/7 Service • Individual career counseling/coaching
• Online workshops
• Online career assessments
• Online employer information sessions
• Online career networking events
Access Handshake (find virtual workshops and events; schedule a virtual appointment with a career counselor/coach!)
Email Career Services
Call 805-893-4412 to leave a message; we will respond as soon as possible
Website career.sa.ucsb.edu
More Less
Civic and Community Engagement

Extensive social media engagement, Drop-in advising, Scheduled one-on-one appointments • US 2020 Census Campaign
• Voter Registration
• Student-Initiated Outreach Program (SIOP) Advising
Temporarily paused: IV GIVE Sale.
Email Viviana Marsano
More Less
CLAS (Campus Learning Assistance Services)

Drop-in advising, Interactive Workshops & Tutorials, Scheduled one-on-one appointments, 24/7 Service • Online tutorials groups for lower-division math/science courses
• Online academic study skills workshops
• Online individual appointment tutorials across the disciplines
• Online individual drop-in tutorial hours
Temporarily paused: In-person tutorials in partnership with the Disabled Students Program (DSP) and Intercollegiate Athletics (ICA).
Website clas.sa.ucsb.edu and the MyCLAS system
More Less
Dean of Students Office
Website studentlife.sa.ucsb.edu
More Less
Disabled Students Program (DSP)

Academic Accommodations (notetaking, exam accommodation, reading services, adaptive technology, e-texts, etc.), Drop-in advising, Scheduled one-on-one appointments • Arranging academic accommodations
• Providing consultation and advocacy for students with disabilities
• Meeting with Disability Specialists
Email DSP Help
Website dsp.sa.ucsb.edu and the DSP Services Portal
More Less
Early Academic Outreach Program (EAOP)

Drop-in advising, Events (artists, concerts, lectures, etc.), Interactive Workshops & Tutorials, Scheduled one-on-one appointments • Online academic advisement for HS Students
• Matriculation services for current HS seniors
• FAFSA Advisement for current HS seniors
• Higher Awareness workshops for EAOP enrolled students 7th-11th grade
• Creating virtual curriculum & presentations for HS students
Temporarily paused: In-person middle school and high school services, pending the return to live instruction at public K-12 schools.
High School (HS) students should connect with their respective HS's EAOP College Site Coordinator via email/Zoom. Staff are reaching out to students to make virtual advising appointments.
Website eao.sa.ucsb.edu
More Less
Early Childhood Care and Education Services

Interactive Workshops & Tutorials, Interactive support and resource for children and families • Online resources for families
• Online Teacher - Child interactions
• Classroom activities
• Support to families including Parent Education Workshops Child
Temporarily paused: In-person direct childcare.
Student families that are enrolled with ECCES can contact staff by email or via ParentSquare. Activities and support are listed in ParentSquare and on our website. To apply to the Children's Centers contact the ECCES Enrollment Coordinator (see website).
Website childrenscenter.sa.ucsb.edu
More Less
Educational Opportunity Program

Community Hours, Town Halls, Drop-in advising, Events (artists, concerts, lectures, etc.), Form or Petition Processing, Interactive Workshops & Tutorials, Scheduled one-on-one appointments • Individual holistic 1:1 Academic, Financial & Personal Counseling
• Group Counseling (coming soon)
• Academic & Cultural Programming & Events (Virtual),
• Summer Programming Preparation (FSSP, STEP, STTP)
• Academic and cultural programming will transition to a virtual platform which will be advertised via our social media (Facebook, Instagram, YouTube)
The Cultural Resource Centers in the SRB (AdCRC, AICRC, ARC, CLCRC, MERC) and El Centro are temporarily closed.
Call 805-893-4758
Website eop.sa.ucsb.edu
More Less
Financial Aid and Scholarships (OFAS)

Drop-in advising, Form or Petition Processing, Interactive Workshops & Tutorials, Scheduled one-on-one appointments OFAS remains committed to ensuring that our students have their financial aid and basic needs met by leveraging existing technologies, investing in our staff and by finding creative solutions to the unique challenges we're all experiencing.
• Meet with a Financial Aid Advisor
• Emergency Loans/Advances
• Financial Crisis Response Team case management
• Spring Quarter Financial Aid Disbursements/Payments
• Providing "Unofficial Financial Aid Award Letters" for 2020-2021 perspective students
• Answering inquiries for Spring 2020, Summer 2020 and the 2020-2021 Aid Year
Email Financial Aid and Scholarships
Request a "call back" on QLess (web or app) or by texting 'OFAS' to 805-585-5821
Website finaid.ucsb.edu
More Less
Health and Wellness

Events (artists, concerts, lectures, etc.), Interactive Workshops & Tutorials, Health challenges online • Online meditation
• Online meal prep and shopping on a budget classes
• Online events such as gaming tournaments and dog therapy day
• Online health workshop series (4-6 weeks) including meditation, cooking, and body image
• Free condom access at Student Health
Temporarily paused: Massage; Rejuvenation Stations.
Email Health and Wellness Interns
Email lookup at wellness.sa.ucsb.edu/contact
Website wellness.sa.ucsb.edu
More Less
International Students and Scholars (OISS)

Drop-in advising, Events (artists, concerts, lectures, etc.), Form or Petition Processing, Interactive Workshops & Tutorials, Scheduled one-on-one appointments • Meet with an Advisor
• Processing Employment Authorization Forms
• Issuing Immigration Documents
Email OISS
Website oiss.sa.ucsb.edu
More Less
MultiCultural Center (MCC)

Events (artists, concerts, lectures, etc.), Interactive Workshops & Tutorials, Scheduled one-on-one appointments • Online discussions and office hours
Temporarily paused: Public programming.
Website mcc.sa.ucsb.edu
More Less
Orientation Programs and Parent Services

Interactive Workshops & Tutorials, Scheduled one-on-one appointments • Orientation Staff Training
• GauchoParents website and UCSB Parents & Family Facebook and communications
Email Orientation
Call 805-893-3443 to leave a message; we will respond as soon as possible
Website orientation.sa.ucsb.edu
More Less
Recreation

Nonacademic classes, Intramural competitions, Clinical care (physical or mental health), Events (artists, concerts, lectures, etc.), Interactive Workshops & Tutorials, Scheduled one-on-one appointments • Group fitness/yoga classes
• Scavenger hunts/GauchoQuest 2.0
• Online portion of CPR and First Aid classes (practical to completed later)
• WorkStrong consultations (including personal trainers, nutrition counseling, etc.)
• Intramural competitions – submit your self-reported results (e.g.free throw contest, etc.)
Temporarily paused: Adventure Programs trips; facility rentals; in-person Intramurals; Passport services; Sport Club practice and competitions.
The Recreation Center (RecCen) and other Recreation facilities are temporarily closed, but undergoing continued maintenance.
Website recreation.sa.ucsb.edu
More Less
Registrar

Form or Petition Processing, Student Support for Registration, Degree Clearance and Diplomas, Official Transcripts & Verifications • Form and Petition Processing
• Student Support for Registration
• Degree Clearance and Diplomas
• Official Transcripts & Verifications
Temporarily paused: Notary services, transcript and verification pickup.
For the fastest response time, please contact the office using one of the unit email addresses or call the number below. Phones are open MTRF 9am-12pm, 1-4pm and W 10am-12pm, 1-4pm.
Call 805-893-3592
Email lookup at registrar.sa.ucsb.edu/contact
Website registrar.sa.ucsb.edu
More Less
Resource Center for Sexual & Gender Diversity (RCSGD)

Events (artists, concerts, lectures, etc.), Scheduled one-on-one appointments • One-on-one Support and Advocacy for Students
• Weekly Virtual Discussion Groups and Events
• Virtual Queer Trans Identities and Experiences Seminars (QTies)
• One-on-one Support and Advocacy for LGBTQ Staff and Faculty
The RCSGD Lounge (SRB) is temporarily closed.
Students should email RCSGD staff directly to schedule time with them – contact information is available on the RCSGD website. Check RCSGD Facebook, Instagram, Twitter, and website for information on virtual weekly discussion groups and virtual events.
Staff and faculty should email RCSGD Associate Director Quinn Solis (they/them/theirs) to schedule a department-specific virtual Queer Trans Identities and Experience Seminars (QTies).
Staff and faculty should email RCSGD Director Craig Leets (he/him/his)for one-on-one support and advocacy.
Website rcsgd.sa.ucsb.edu
More Less
Storke Student Publications

Continuous news coverage via Daily Nexus website and social media, Connecting with seniors about Senior Book updates and submissions • The Daily Nexus will be publishing 10-15 articles weekly on the Daily Nexus website as well as keeping social media updated
• Students will be kept informed, entertained and can engage with the comment sections of each post
• Senior Book will be providing a way for seniors to contribute a senior quote and a senior picture for the Senior Book that will be printed and distributed in the future either via USPS or pick up method at an in-person Commencement ceremony
On-campus senior portraits have been cancelled this spring quarter.
Daily Nexus – Post comments or call/email the Editor-in-Chief
Senior Book
Email Linda Meyer
Email Senior Book
More Less
Student Conduct (OSC)

Scheduled one-on-one appointments • Hearings and conduct meetings
Online Misconduct Report Form
Email Student Conduct
Website studentconduct.sa.ucsb.edu
More Less
Student Engagement and Leadership (SEAL/OSL)

Campus Organization (Club) Highlights, Drop-in advising, Interactive Workshops & Tutorials, Scheduled one-on-one appointments • Meet with a Student Life Advisor (getting involved, general advising)
• Registered Campus Organization Advising
• Workshops: Getting Involved Online, Leadership, How to use Shoreline for RCO Business
The SEAL/OSL Resource Center (SRB) is temporarily closed. RCO Accounting deposit and check processing may be delayed.
Current students should download the UCSB Shoreline App (Android or iOS)
Email Student Engagement and Leadership
Website osl.sa.ucsb.edu
More Less
Student Health

Clinical care (physical or mental health), Interactive Workshops & Tutorials, Scheduled one-on-one appointments • Medical appointments and services (lab, x-ray, etc.)
• Psychiatry
• Social Work
• Alcohol & Drug Counseling
• Nutrition & Eating Disorder Counseling
Temporarily paused: routine dentistry and routine eye exams.
Call 805-893-3371
Website studenthealth.sa.ucsb.edu

IN-PERSON SERVICES OFFERED
Student Health Building
Mon-Fri, 9 a.m. – 4:30 p.m.
Additional hours by appointment only
More Less
Student Information Systems & Technology
Website sist.sa.ucsb.edu
More Less
Student Mental Health Coordination Services (SMHCS)

Scheduled one-on-one appointments • Outreach, intervention and coordination of resources for students in distress
• Consultation re: students in distress
Tell Us About a Student in Distress so we can reach out
Website www.sa.ucsb.edu/responding-to-distressed-students/
More Less
Undocumented Student Services (USS)

Interactive Workshops & Tutorials, Scheduled one-on-one appointments, Academic & Cultural Programming & Events (Virtual) • Meet with USS Staff
• USS Seminars
• Immigration Legal Services
The Monarch Lounge, center for undocumented students, is closed until further notice.
Call 805-893-5609
Website www.sa.ucsb.edu/dreamscholars/
Follow us on Instagram: @ucsb_uss
Check out UC's Income Generation Options for Undocumented Students Toolkit
More Less
Veterans & Military Services

Form or Petition Processing, Interactive Workshops & Tutorials, Scheduled one-on-one appointments, 24/7 Service • Virtual info sessions for prospective students
• Resolution of student issues via email/Zoom
• Virtual organization meetings
• Community meetups through Zoom
• Processing of VBRFs for certification to VA
The VRC Lounge is temporarily closed.
Current students should download the myVRC™ App (Android or iOS)
Email Veterans and Military Services
Website www.sa.ucsb.edu/veterans
More Less
Women, Gender, and Sexual Equity (WGSE)

Events (artists, concerts, lectures, etc.), Interactive Workshops & Tutorials, Staff Office Hours • Online office hours M-F 10am - 4pm with Women's Center administrative coordinators. Contact info for specific staff members will be posted on our social media
• Interactive workshops on feminist-themed topics
• Support for Non-Traditional Students, Childcare Grants, Priority Registration
The Women's Center and Non-Traditional Student Resource Center are temporarily closed. When the SRB reopens, we will be excited to reopen our lounges to all! Due to the closure of the Pardall Center, we are unable to offer products through the Wellness Vending Machine.
Find us on Facebook and Instagram @ucsbwomenscenter
Contact staff during office hours by Zoom or email.
Email Betsy Kaminski
Website wgse.sa.ucsb.edu
More Less
---
Faculty & Staff Quick Links